If you are injured at work, it is important to know what you are entitled to and what are Nevada workers' compensation benefits. The Nevada Industrial Insurance Act (NIIA) is the act that governs Nevada's workers' compensation in conjunction with NRS 616 – 617 and NAC 616 – 617. In short Nevada's workers' compensation benefits can be broken down into "7 types of benefits injured workers may be entitled to."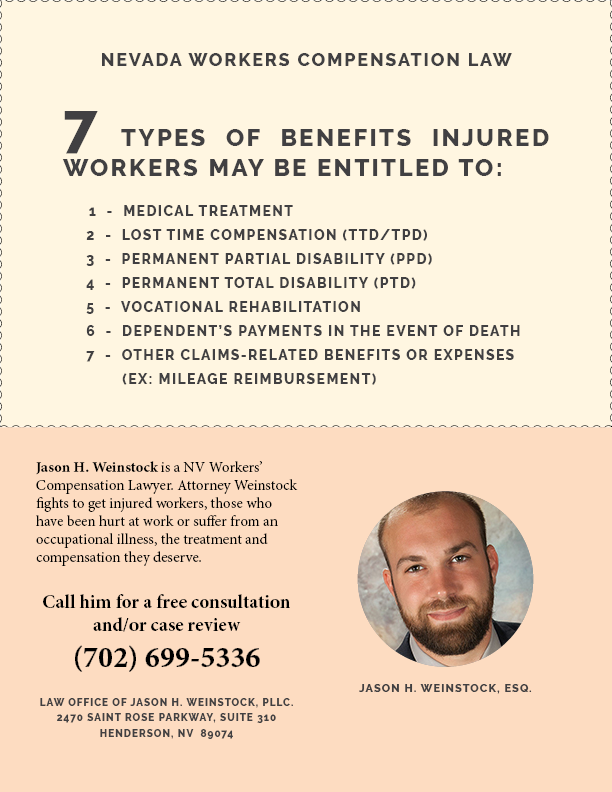 Medical Treatment.
One of the main goals of the NIIA is to return an injured worker to preinjury condition/health. This entails getting them proper treatment at no cost to them. When an employee gets hurt at work one of the first steps in initiating a claim entails going to a doctor and completing a C-4 Form.
Once a claim is filed with the workers' compensation insurance company, the insurer has 30 days to accept or deny the claim. During this time, the injured worker can treat with the physician that completed the C-4 form or any physician that doctor refers the injured worker to, if approved by the insurer.
Once the claim is accepted, insurers have providers list which the injured worker can treat with. Unlike private health insurance, there are no co-pays or out-of-pocket medical expenses for the injured worker to pay for when treating for their work injury. Workers' compensation insurers help schedule treatment, testing and pay for prescriptions.
Lost Time Compensation (TTD/TPD).
When an injured worker is taken out of work due to their injury for more than 5 consecutive days or is working light duty, but making less than they normally would, they may be entitled to compensation. The amount of compensation depends on the injured workers' average monthly wage at the time of the injury. Benefits are paid at a rate of 66 and 2/3% of the injured workers' average monthly wage.
Temporary total disability (TTD) benefits are paid when the injured worker is taken completely off work due to the doctor's work restrictions or if the employer has no "light duty" work that falls within the doctor's work restrictions.
Temporary partial disability (TPD) benefits are paid when the injured worker is working light duty but making less than his/her calculated daily rate (or less than 66 and 2/3% of their preinjury average monthly wage).
Permanent Partial Disability (PPD).
At the end of all the injured worker's treatment, their treating physician will indicate that the injured worker is "stable," at maximum medical improvement, and whether there may be a ratable impairment. If the treating physician does indicate there is a ratable impairment the insurer has 30 days to schedule a permanent partial disability (PPD) examination.
The PPD examination is done by a licensed rating physician, who uses methods prescribed by the American Medical Association Guides to the Evaluation of Permanent Impairment to determine a percentage of whole person impairment. This percentage of impairment is used to determine settlement amounts and the length of vocational rehabilitation, if an injured worker is entitled to vocational rehabilitation.
Permanent Total Disability (PTD).
Permanent total disability (PTD) benefits come into play if an injured worker is injured so severely that he/she cannot return to any form of employment again. Injured workers' eligible for PTD receive monthly payments for life.
Vocational Rehabilitation.
If an injured worker is released from their treating physician with permanent work restrictions, meaning they can never return to their preinjury employment, their employer has to offer a permanent light duty job position. If their employer cannot offer a permanent light duty position, the injured may be entitled to vocational training. This is where the injured worker can attend schooling to learn a new skill or trade that will assist them in finding meaningful employment.
The schooling is paid for and the injured worker receives bi-weekly maintenance checks (similar to TTD benefits). If the injured worker does not want to attend schooling, they may request a lump sum buy-out in lieu of vocational rehabilitation.
Dependent's Payments in the Event of Death.
In the event of an injured workers' death which is the result of a compensable work injury, his/her dependents may be entitled to the financial benefits that the injured worker himself/herself would have been entitled to.
Other Claims-Related Benefits or Expenses.
Nevada's workers' compensation system also allows for additional benefits including mileage and travel reimbursement. Mileage is paid at a current rate of 57.5 cents per mile and this amount is subject to change every year on January 1st. If an injured worker lives out of state and is required to come to Nevada for medical treatment, the injured worker may be entitled to have their hotel and food paid for while in Nevada for the medical treatment. Additionally, there may be times when prosthetics or other claim related expenses would be covered by the insurer.
Although the above list of workers' compensation benefits is a good basic overview, I recommend consulting with an experienced workers' compensation attorney, as eligibility to each of these benefits requires a case-by-case analysis.
Give me a call or send an email for a free consultation if you have questions or concerns about your Nevada workers' compensation claim, filing a claim, or workers' compensation benefits.